The Summary Of Safety Lockout Hasp
Views:8 Author:Site Editor Publish Time: 2016-10-26 Origin:Site
Safety Lockout Hasp Description

Safety lockout hasp, also known as row locks, generally composed of steel hasp and polystyrene lock handle, the usage of the lockout hasp solved the problem of the multiple management the same machine or pipeline , when a machine needs to service, we have to cut off the power and the supply needs to be locked out and tagged in order to avoid turning on the power carelessly and also causing harm to the servicemen.

Safety Lockout Hasp Application

When only one person service the machine, it's enough lock out and tag with padlock ,but when there are many people service the machine, we must use the safety lockout hasp, when someone work out the service and remove his own padlock from the lockout hasp, the power still in lock and can't open, only when all of the servicemen have vacating scene and removed their padlocks from the lockout hasp, then the power can be turned on.

Safety Lockout Hasp Classification

The safety lockout hasp is one of the safety lockout that our company manufacture. Including PA Coated Steel Hasp, Economic Steel Hasp, Aluminum Hasp, Steel Hasp With Hook,Economic Steel Hasp With Hook, Butterfly Lockout Hasp, Nylon Lockout Hasp, Aluminum Lockout Hasp, Double-End Aluminum Hasp and Double-End Steel Hasp.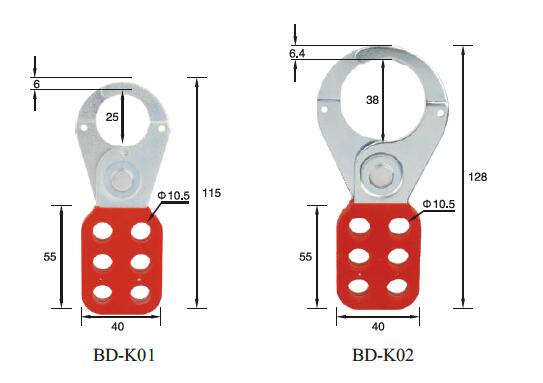 | | |
| --- | --- |
| Part Code | Description |
| BD-K01 | Lock shackle 25mm(1") |
| BD-K02 | Lock shackle 38mm(1.5") |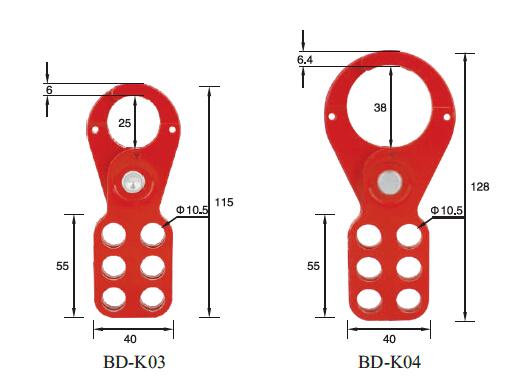 | | |
| --- | --- |
| Part Code | Description |
| BD-K03 | Lock shackle 25mm(1") |
| BD-K04 | Lock shackle 38mm(1.5") |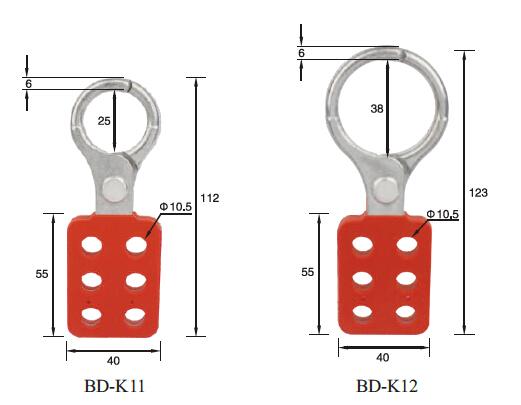 | | |
| --- | --- |
| Part Code | Description |
| BD-K11 | Lock shackle 25mm(1") |
| BD-K12 | Lock shackle 38mm(1.5") |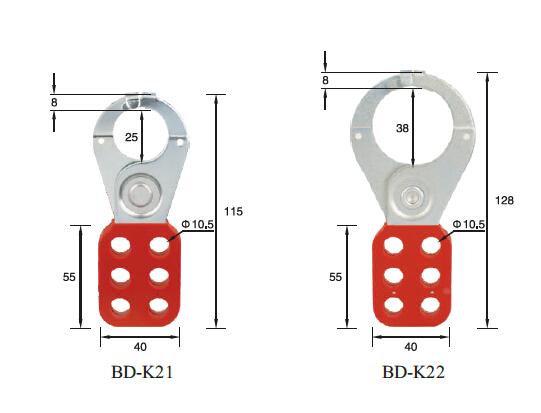 | | |
| --- | --- |
| Part Code | Description |
| BD-K21 | Lock shackle 25mm(1") |
| BD-K22 | Lock shackle 38mm(1.5") |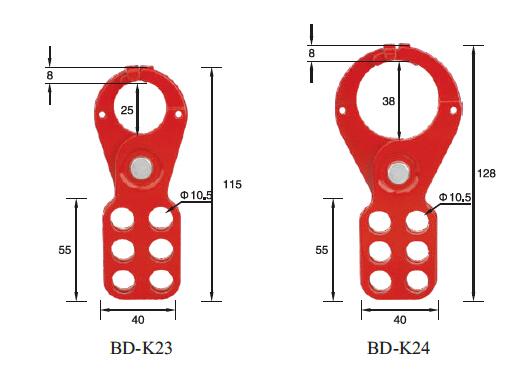 | | |
| --- | --- |
| Part Code | Description |
| BD-K23 | Lock shackle 25mm(1") |
| BD-K24 | Lock shackle 38mm(1.5") |
| | |
| --- | --- |
| Part Code | Description |
| BD-K31 | Allow to 6 padlocks |
| BD-K32 | Allow to 6 padlocks |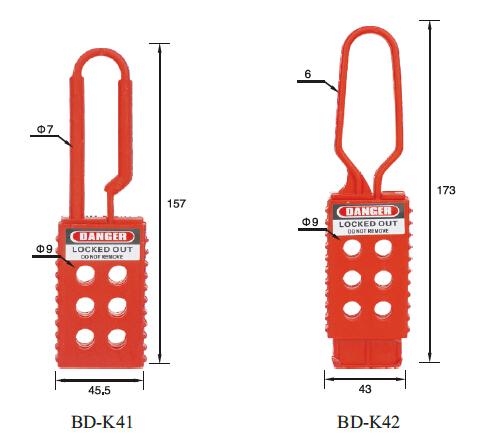 | | |
| --- | --- |
| Part Code | Description |
| BD-K41 | Allow to 6 padlocks |
| BD-K42 | Allow to 6 padlocks |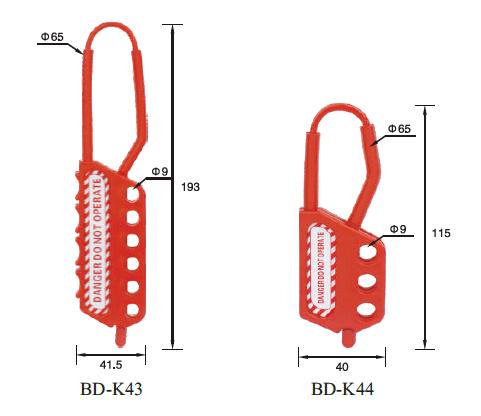 | | |
| --- | --- |
| Part Code | Description |
| BD-K43 | Allow to 6 padlocks |
| BD-K44 | Allow to 6 padlocks |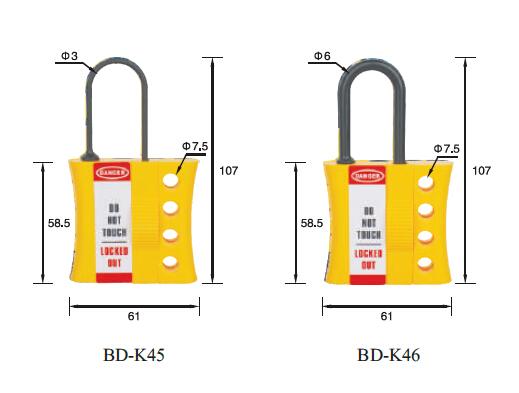 | | |
| --- | --- |
| Part Code | Description |
| BD-K45 | Lock shackle diameter 3mm |
| BD-K46 | Lock shackle diameter 6mm |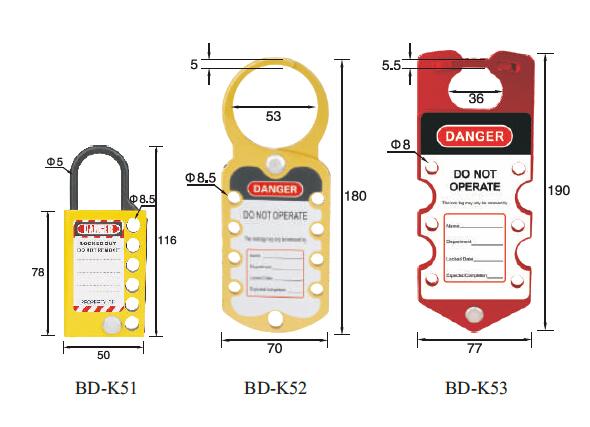 Part Code

Description

Color

BD-K51
Allow to 6 padlocks
Yellow
BD-k52
Allow to 9 padlocks
Red, Yellow, Blue,....
BD-K53
Allow to 7 padlocks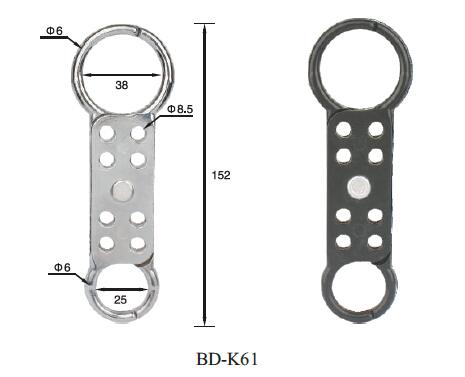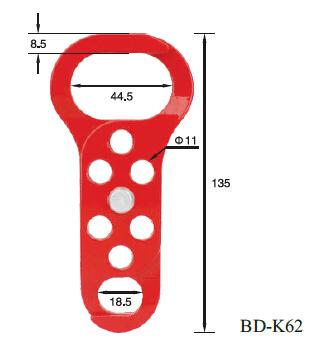 | | |
| --- | --- |
| Part Code | Description |
| BD-K62 | Allow to 6 padlocks |